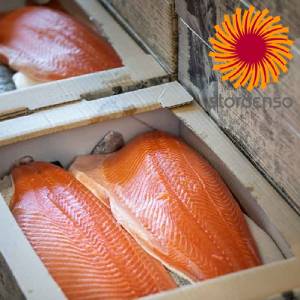 EcoFishBox – climate-friendly fish boxes.
Low Carbon Fish Packaging Helps Business and the Climate

(FINLAND, 10/22/2021)
Too often businesses have considered sustainability as an expense. Yet climate friendly solutions increasingly provide more benefits to companies than environmental ones.
Companies in the fish industry are prioritizing sustainability to meet the demands of legislators and consumers. Stora Enso helps the fish industry build a more climate-friendly supply chain by replacing fossil-based packaging with a solution made from mainly renewable materials. According to Stora Enso's LCA study, you can lower the carbon footprint of your packaging at least by 40%.
EcoFishBox is a complete solution for packing fish throughout the supply chain, including custom branded boxes and lids, automation and ice packing solutions. Made of mainly renewable wood fiber and delivered flat, EcoFishBox contributes to using less fossil resources and requires significantly less space in storage and transport, translating into reduced climate impact.
EcoFishBox is designed for both large and small production lines from gutted fish to fillets and shellfish.
Reduce plastics in the fish industry with help of a package with lower climate impact
One of The company's customers in the fishing industry, Kalaneuvos and their sister company Nordic Trout, have a mission to be the biggest and the most sustainable fish industry company in Finland and Sweden. One step on their journey towards their goal was to substitute polystyrene foam packages by a more sustainable fish packaging. The switch to EcoFishBox gave them more benefits than just low-carbon packaging for fish.
"The use of styro boxes is very common in the fish industry. For our customers the disposal of these styro boxes has been a big issue. When EcoFishBox came, this problem was solved and it increased customer happiness a lot," says Toni Hukkanen Kalaneuvos's COO.
With easy-to-rinse-and-recycle EcoFishBoxes, you can simplify waste-handling in retail.
Reduced carbon footprint and improved circular economy with EcoFishBox
Nordic Trout uses the EcoFishBox to ship fish from the fish farm to Kalaneuvos for processing. Kalaneuvos also uses the EcoFishBox to send fish to grocery stores. Nordic Trout CEO Alf-Håkan Romar explains that their sustainability work is a collaborative process with their customers through the whole value chain, from the fish farm to the plate. The upgrade from polystyrene boxes to EcoFishBox reduced costs as they now transport 1/7 the volume. With plastic boxes replaced by a more climate friendly EcoFishBoxes, carbon emissions are also reduced. Kalaneuvos also get more satisfied customers because EcoFishBox is easy to recycle and doesn't take up as much space as the traditional polystyrene boxes.
A complete solution for packing fish throughout the supply chain, including custom branded boxes and lids, automation and ice packing solutions.
"I think it's very easy to recycle. It's quick to rinse, then they are left to dry, stacked and placed in recycling. It's always a good thing if you get less waste and the carbon footprint is reduced," says Mira Lehtinen, K-Citymarket Sastamala.
Award-winning packaging with at least 40% smaller carbon footprint*
EcoFishBox is an award-winning and patented fish packaging solution with benefits for both business and climate. EcoFishBox achieves between 40-73% lower carbon emissions compared to EPS boxes, according to Stora Ensos's study. Variation in impact depends on packaging size and location. Being recyclable in many countries and made of mainly renewable materials, the fiber-based EcoFishBox reduce the amounts of plastics in the fishing industry.
* According to Stora Enso's LCA report.
About Stora Enso
Stora Enso develops and produces solutions based on wood and biomass for a range of industries and applications worldwide, leading in the bioeconomy and supporting customers in meeting demand for renewable eco-friendly products.
Source: Stora Enso
editorial@seafood.media
www.seafood.media
Information of the company: