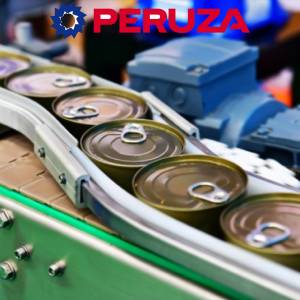 Peruza will supply packing cobots and palletizing solutions.
Peruza and EFLA Implement Cobot Technologies in Iceland's Leading Production Companies
(LATVIA, 9/20/2021)
Peruza and EFLA signed a contract in March, 2021 to set up a state of the art automated packing and palletizing line consisting of several Cobots and a palletizing Robot for the end customer (Iceland). Latvian company Peruza will supply packing cobots and palletizing solutions, while EFLA, which has signed the contract with Akraborg, will supply the end customer with a statistics and data collection system. In addition, this project is only the first stage of an extensive automation project.
Latvian based company Peruza, which produces automation equipment, has launched cooperation with the Icelandic company EFLA to provide an automated packing and palletizing line to the end customer Akraborg.
Currently, the project involves three robots, including two cobots, and the system is fully automated. The can packing and palletizing line is equipped with a statistics and monitoring system to help Akraborg management supervise the production process online, reduce production waste and increase capacity. The equipment operator has the option to set up various packaging sizes and combinations. Te solution has the following advantages:
Smaller number of operators.

Option to adapt production to different types of products — it is possible to use three types of cans and four types of boxes.

Easy system maintenance.

Option for operators to work alongside the Robots during extra peaks of workload.
Currently, the planned production capacity is 30 million packages per year.
This project is only the first stage of an extensive automation project.
About Peruza
Peruza is an engineering company that has manufactured production equipment since 1991. The core of Peruza equipment building process is comprehension of how to increase customers profits by reducing waste during pre-processing and packaging.
Peruza field of competence is vast, the company mostly produces equipment for various food industries, particularly specializing in fish processing equipment. Peruza build equipment based on in-depth research and understanding of customer industries.
Approximately 50% of the total turnover of the projects implemented by the company come from the production equipment for fish processing and 35% from automated packaging and palletizing solutions. About 15% of Peruza portfolio constitute customized solutions for the food industry. 5 years ago Peruza started producing also automated packaging and palletizing lines for various other industries. It is also possible to build custom equipment suited to any customer's specific requirements. Peruza boasts over 1,500 implemented projects in 20+ countries.
About EFLA
EFLA is an Icelandic engineering company that provides industrial IT solutions and consulting worldwide, including statistics and data collection systems. Whereas Akraborg is a niche leading Icelandic company producing canned fish since 1989, and currently Akraborg is the largest producer of canned cod in the world.
Source: Peruza

Related News

editorial@seafood.media
www.seafood.media
Information of the company:
Address:
Lejasrandoti
City:
Mucenieki, Ropazu novads
State/ZIP:
Riga Region (LV-2137)
Country:
Latvia
Phone:
+371 67 248 036
Fax:
+371 67 312 873
E-Mail:
info@peruza.lv
More about: