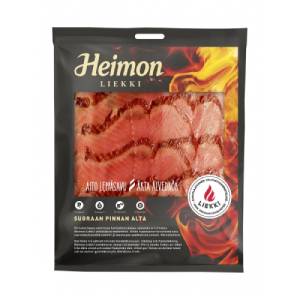 Heimon Kala is one of the country's five largest smoked fish companies and has been a leader in the fish processing industry for over three decades.
Delicious Fresh Fish Without Anything Extra

(FINLAND, 8/13/2021)
Heimon Kala Oy has years of experience in fish farming. The company's own fish farms enable quality control throughout the whole farming process. Heimon Kala Oy is able to manage the impact on the environment, anticipate changes, affect the growing conditions for the fish and know exactly how fish are doing and what they eat.

Heimon Kala Oy produces its products respecting the traditions and pure tastes in the company's brands Renko, Kokkola and Saaremaa.
Heimon Kala Oy manages the fish production process from its fish farms in Finland and Sweden to the final product that appears on plates throughout the Baltic countries.
In cooperation with feed producer BioMar, Heimon Kala Oy has developed a fish feed, which is the best possible choice for both fish and the environment. The nitrogen and phosphorus concentrations of the feed the company uses are optimized to support sustainable development in order to minimize the environmental impact of fish farming.

The company's aim is to deliver fish that can be enjoyed which is delicious and responsibly produced in the future as well. Heimon Kala Oy is constantly developing new ways to produce, package and deliver fish the consumer. The company feels that is important that its fish products on the store shelf are as fresh as possible.
Heimon Kala sells fresh, fried, grilled, salted, smoked, and frozen fishes. Heimon Kala serves customers throughout Europe.
Heimon Kala is responsible for the entire production chain, which eneables to guarantee that all the company's fish delicacies meet high quality requirements in terms of taste, aroma and color. The company produces smoked fish, caviar, shellfish, herring, fresh fish and other fish products.

Environmental values work as guiding principles in the development of the company's new packaging solutions, and they prefer to use recyclable materials. Heimon Kala Oy's new skin packages contain 20 % less plastic than equivalent vacuum packs. The skin packaging is an airtight vacuum that enables the fish to stay fresh for a long time. Products are packed for transport mainly in either long-lasting and reusable boxes or recyclable cardboard boxes.
Heimon Gourmet rainbow trout, whitefish and vendace roe are recognizable by their bally hue and irresistibly fresh taste.
Heimon Kala Oy strives to find sustainable energy solutions and reduce emissions at its facilities. Among other things, they have brought solar power plants into use, which enables to produce some of the energy.
You can also find Heimon Kala fish delicacies at the service counter. The company delivers fresh fish unprocessed, filleted and smoked to stores all over Finland.
About Heimon Kala Oy

Heimon Kala Oy, a subsidiary of PRFoods, was founded in Hämeenlinna in 1980, and since then the company has grown into one of the largest rainbow trout breeders and fish wholesalers in Finland. Heimon Kala aims to switch to the use of only ASC and MSC certified fish stocks in its salmon and seafood products and to achieve emission neutrality by 2022 at the latest. Heimon Kala processing plants have higher level FSSC and BRC food safety certificates. The company's turnover in the previous financial year was 47.2 million euros.
Heimon Gourmet flamed fish fillet is made by slowly flaming with a genuine open fire.
The parent company of Heimon Kala AS PRFoods, listed on the NASDAQ Baltic Stock Exchange, has a significant number of Finnish shareholders. The group specializes in fish farming and processing. The group's consolidated turnover in the previous financial year was 78.3 million euros.

Heimon Kala has fish processing plants in Kokkola and Renko and rainbow trout farms in Finland, Sweden and Estonia. The group also includes John Ross Jr., the UK's most renowned fish processor and supplier to the royal court. (Aberdeen) Limited and Coln Valley Smokery Limited, a smoked fish factory based in Scotland.
Heimon rainbow trout fillet strips is the nobility of everyday food.
Source: Heimon Kala Oy
editorial@seafood.media
www.seafood.media
Information of the company: