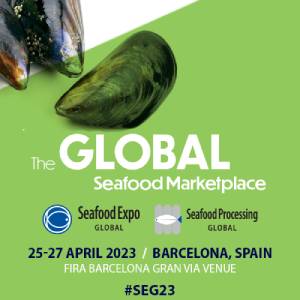 At just one venue, throughout nine halls, professionals like you come face-to-face with exhibiting suppliers representing 77 countries.
Seafood Expo Global/Seafood Processing Global Returns to Barcelona to Bring Together the Global Seafood Industry

(SPAIN, 1/30/2023)
Seafood Expo Global/Seafood Processing Global, the world's largest and most diverse seafood Expo, will return to Barcelona for its 29th edition on 25-27 April 2023. Organized by Diversified Communications, the event debuted in the Catalan capital last April with a successful outcome at Fira de Barcelona's Gran Vía venue.
Building on the 2022 edition's momentum, the event returns to the same venue in Barcelona, and for three days, will be the seafood sector's largest commercial and face-to-face trade event, providing the industry with a valuable business platform at a global level, as well as a considerable economic impact for the city.
Seafood Expo Global/Seafood Processing Global is the global seafood marketplace, serving industry professionals and buyers from all corners of the supply chain and world. If you purchase seafood for your business, you simply cannot afford to miss this event.
Seafood Expo Global/Seafood Processing Global will feature an expansive exhibit hall highlighting all types of seafood products as well as processing equipment and services from suppliers from around the globe. In addition, the 29th edition will expand the offer of its conference program as a platform to discuss new challenges, opportunities and solutions in the sector at a global level. The program will include more than 20 informative sessions by industry experts. This year, video recordings of the sessions are included in the Conference registration.
Liz Plizga.
"We expect long-term growth in Barcelona," said Liz Plizga, Group Vice President at Diversified Communications. "Last year's successful first edition in Barcelona validated the benefits of moving a global event the size of Seafood Expo Global/Seafood Processing Global in a modern and convenient location that present long-term growth opportunities. The exhibit halls were buzzing during all three days, and you could feel the excitement of being back in-person from both sides of the aisle. At the end of the event, exhibitors and visitors alike were looking forward to the 2023 edition."
"In fact, this year's event is tracking exceptionally well with more than 45,000m2 of exhibit space already sold showing unprecedented growth over the 2022 edition. It will be exciting to see the additional growth in the coming months leading up to the show," added Plizga.
Estimated economic impact of up to 100 million euros at the last edition
In its first edition in Barcelona, Seafood Expo Global/Seafood Processing Global brought together 26,703 industry professionals from around the world and 1,556 exhibiting companies from 77 countries occupying 39,847m2 of sold exhibit space. The organization estimates an annual economic impact of up to 100 million euros for the Catalan capital, affirming its significant potential and socioeconomic value for the industry and the city.
Seafood buyers and professionals from more than 150 countries attend Seafood Expo Global/Seafood Processing Global annually.
"The seafood industry is an industry based on human relationships, therefore it is extremely important for people to be able to meet face-to-face to discuss on a human level, solve their problems and look at the future together," explained Finnian O'Luasa, Manager France, Belgium & Luxembourg, for Bord Bia, the institution for the dissemination of gastronomy in Ireland, during the celebration of the last edition at the Fira de Barcelona venue. "We've never had so many people on our stand with 25 companies this year, which is a record," added O'Luasa.
Attendees include owners, proprietors, executive purchasing managers, category managers, private label program buyers and equipment and packaging buyers from retail, foodservice, and other business categories
The world's largest seafood event
Seafood Expo Global/Seafood Processing Global brings together the key players (suppliers, buyers, authorities, distributors, industrials and services) in the seafood sector from around the world. At Seafood Expo Global, exhibitors present the latest seafood products – fresh, frozen, canned, canned, value-added, processed and packaged – to seafood buyers from around the world, including supermarkets, restaurants, hotels, caterers, importers, distributors, seafood markets and other retail and foodservice companies.
Seafood Processing Global enhances every aspect of seafood processing, including packaging materials and machinery, refrigeration and freezing equipment, primary processing systems, secondary processing systems, hygiene control, sanitation and quality control services.
About Seafood Expo Global and Seafood Processing Global
Seafood Expo Global/Seafood Processing Global form the world's largest seafood trade event. Thousands of buyers and suppliers from around the world attend the annual, three-day exposition to meet, network and conduct business. Attending buyers represent importers, exporters, wholesalers, restaurants, supermarkets, hotels, and other retail and foodservice companies. Exhibiting suppliers offer the newest seafood products, processing and packaging equipment, and services available in the seafood market. SeafoodSource.com is the exposition's official media. The exposition is produced by Diversified Communications, the international leader in seafood-industry expositions and media.
Source: Diversified Communications
editorial@seafood.media
www.seafood.media
Information of the company: