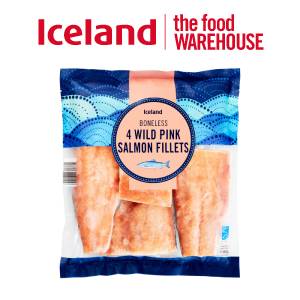 Suppliers of Iceland own brand seafood are encouraged to use practices that minimise discards and that avoid capture of undersized fish.
Iceland Foods Tops MSC's Supermarket Ranking for the Most Sustainable Own Brand Seafood

(UNITED KINGDOM, 2/27/2023)
Iceland Foods has for the first time been recognised as the number one supermarket by the Marine Stewardship Council (MSC) for having the highest percentage of its own brand wild seafood products bearing the blue MSC ecolabel. The MSC UK & Ireland Market Report 2022 found that 76% of Iceland's own-brand seafood range was MSC certified, proportionally ahead of all other UK supermarkets.
Iceland has made a significant effort to obtain MSC certification for an increasing number of its own-label products, with 76% certification across its range.
The MSC report showcases the best-in-class consumer options from retailers on sustainable seafood choices. It found that seafood lovers currently have the widest variety of sustainable options to choose from than ever. Iceland has seen customers continue switching into its frozen seafood options, with MSC certified, own brand items the most popular. The report recognises that Iceland is committed to the MSC programme and supporting certified sustainable fisheries, in a wider market that continues to face supply chain challenges and economic pressures.
Richard Walker.
Richard Walker, Executive Chairman of Iceland Foods, said: "At Iceland, our purpose is to build not only a profitable business, but a responsible one. We are committed to doing the right thing for our colleagues, customers, the communities we serve, and the planet. To have the vast majority of our own branded seafood certified, and recognised by the MSC, in this way is a testament to the value and quality we work to deliver to our customers on a daily basis."
Iceland was also highlighted in the report for becoming the first UK retailer to offer whole frozen MSC Cornish sardines under its own brand in 2020 – 2021 and for its 'great support of local, certified sustainable fisheries in the UK'.
George Clark, MSC UK & Ireland Programme Director, commended the supermarket: "Iceland's fantastic progress in meeting the expectations of its customers through supporting sustainable fisheries and expanding their range of MSC certified fish and seafood is something to celebrate. They now offer the highest percentage range of MSC certified wild seafood among all UK retailers. That's testament to the business's commitment to helping the collective effort in driving the sustainable seafood movement forward and delivering real, positive impacts in our seas."
Iceland has developed five guiding principles that will ensure all Iceland own brand fish and seafood is 100% responsibly sourced:
Traceability,
Transparency,
Risk assessing its supply chain and
Doing the right thing.

Previously Iceland was winner of MSC UK Newcomer of the Year 2020.
The full MSC UK and Ireland Market Report for 2022 is available to view here.
About Iceland Foods
Iceland Foods is a unique British food retailer with over 900 stores throughout the UK, a further 40 owned or franchised stores across Europe, and a global export business.
Source: Iceland Foods
editorial@seafood.media
www.seafood.media
Information of the company:
Address:
2ND Avenue Deeside Ind Park
City:
DEESIDE
State/ZIP:
CLWD (CH5 2NW)
Country:
United Kingdom
Phone:
+44 1244 830 100
Fax:
+44 1244 814 531
E-Mail:
contact@iceland.co.uk
More about: