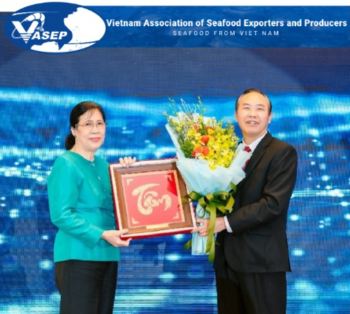 Ms. Nguyen Thi Thu Sac-Vice President of VASEP presented gratitude gifts to the Deputy Minister
Vietnam's seafood exports in 2022 reach 11 billion dollars

(VIET NAM, 1/10/2023)
In December 2022, Vietnam's seafood exports reached $785 million, continuing a 13% decline compared to the same period in 2021. However, thanks to continued growth in the first 10 months of the year , exports of seafood products reached 11 billion dollars, an increase of almost 24% compared to 2021.
After an 18% drop in November, December shrimp exports were down 21% year-on-year to $260 million. In 2022, the shrimp industry registered a record of more than $4.3 billion, of which white shrimp exports reached $3.1 billion, black tiger shrimp exports generated nearly $570 million, lobster 278 million dollars, the rest were river shrimp and other marine shrimp.
Pangasius exports generated more than $2.4 billion, an increase of 52% compared to 2021. In December, pangasius exports also fell sharply by 23% over the same period, reaching $166 million.
Although it also fell 22% in December with sales of more than $68 million, the tuna industry reached the $1 billion milestone for the first time. Cephalopod exports brought in $764 million, up 26% from 2021. Other seafood products such as anchovies, mackerel, mackerel, and marine fish brought in a whopping $2 billion in 2022, up 22% from 2021 .
In December, although exports to most markets declined, exports to China and Hong Kong still increased by 17%, which is an optimistic sign for this market going forward. In 2022, the China-HK market generated more than $1.8 billion for Vietnam's seafood industry, an increase of 59% compared to 2021.
Exports to ASEAN countries still maintained positive growth momentum of 27% in December. This market contributed $790 million to Vietnam's seafood exports in 2022.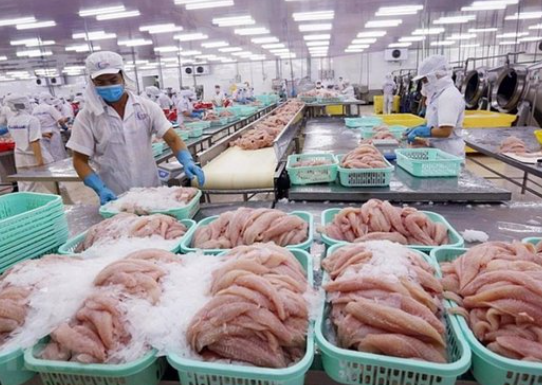 Photo: VASEP
Exports to the US fell the most, 40% in December. In 2022, exports to this market exceeded 2.1 billion dollars, 5% more than in 2021. Exports to the EU reached almost 1.3 billion dollars, 20% more. Exports to this market decreased by 32% in December. Japan maintained a stable level of imports of almost 1.7 billion dollars in December and the whole year too, up 28%.
The CPTPP block contributes to the Vietnamese fishing industry with more than 2.8 billion dollars in 2022, 30% more than in 2021.
The global economic recession and inflation are causing a sharp decline in market demand. It is forecast that exports in the first quarter of 2023 will not be able to maintain the positive results as in 2022 and the market may recover in the second half of 2023. Therefore, in 2023, seafood exports may slightly decrease to around of 10 billion dollars.
Compilado por Thuy Linh / VASEP
editorial@seafood.media
www.seafood.media
Information of the company:
Address:
218 Road No.6, Zone A, An Phu An Khanh New Urban Area, District 2
City:
Ho Chi Minh
State/ZIP:
( )
Country:
Viet Nam
Phone:
+84 28 6281 0430
Fax:
+84 28 6281 0437
E-Mail:
vasephcmcity@vasep.com.vn
More about: