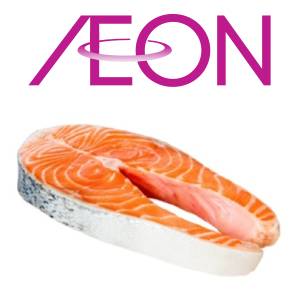 Suppliers of farmed seafood must keep stocking densities at levels that do not harm animal welfare.
AEON Malaysia Praised for the Most Comprehensive Seafood Welfare Policy for any Retailer Globally

(MALAYSIA, 2/2/2023)
ÆON represents many things to the average Malaysian – retail giant, supermarket chain, credit service provider, and, more recently, the pioneer of what is one of the most comprehensive farm animal welfare policy for any retailer globally.
With 92 supermarkets across the country, AEON is one of the largest retailers in Malaysia and Asia and a household name. Lever Foundation, a 501(c)3 tax-exempt public charity based in the United States, worked with the company to draft a policy that protects the "Five Freedoms" of chickens, pigs, cows and fish in its supply chain in a significant move that will help put animal welfare at the forefront of the retail industry in the country.
All processors and suppliers
in AEON's food supply chain
must comply with all
relevant national and state legislation in regard to animal health and welfare in the
country
it is produced.
After working with AEON for nearly a year and inspiring the company to end the use of caged eggs, Lever suggested AEON embrace a more comprehensive commitment and drafted a new farm animal welfare policy for the company.
AEON will phase out cages for laying hens and pigs in its supply chain, limit stocking densities, provide environmental enrichment and avoid painful procedures such as tail docking.
The policy also uniquely covers fish and crustaceans (both wild-caught and farm-raised), with suppliers required to monitor water temperature, flow, oxygen, pH, ammonia, carbon dioxide and potential diseases daily while also adopting less cruel capture and slaughter methods. Including fish and crustaceans is particularly crucial, given that Asia is the world's largest seafood-consuming region.
AEON has adopted the
farm animal welfare policy for
all
fresh, chilled and frozen
animal protein products in its supply chain
.
"We aspire to require all suppliers of farmed and wild-caught fish and seafood products to be certified by Marine Stewardship Council (MSC), Aquaculture Stewardship Council (ASC) or equivalent and to follow World Organisation for Animal Health (WOAH) standards." the Company noted in its new fish policy.
AEON is working on developing the timelines by which suppliers in the various sectors must meet the new standards and has committed to releasing those publicly by October of this year.
Vilosha Sivaraman.
"Animal welfare is deeply related to the relationship human beings have with animals," the company noted in a statement released on its website alongside the new policy. "It is our duty to ensure all animals are treated humanely, responsibly, and with respect."
"We applaud AEON Malaysia for this new holistic set of standards that will further improve the welfare of fish, chickens, cows and other animals in the company's supply chain," said Vilosha Sivaraman, Sustainability Programme Manager at Lever Foundation, which worked closely with AEON on drafting the policy.
"Many food companies in Malaysia are upgrading their animal welfare policies in response to increased consumer interest in more humane, sustainable and safe products, and with its new policy, AEON has established itself as a leader in this area."
Click here to read AEON's Malaysia animal health and welfare policy.
About ÆON
ÆON is the largest retailer in Asia. ÆON is a retail network comprising around 300 consolidated subsidiaries and 26 equity-method affiliated companies. These range from convenience stores "Ministop" and supermarkets to shopping malls and specialty stores, including having owned the American chain Talbots. ÆON is Japan's single-largest shopping mall developer and operator.
About Lever Foundation
Leveler Foundation's aim is to help companies to move the world toward a more humane and sustainable protein supply.
Lever Foundation is a 501(c)3 tax-exempt public charity based in the United States. The company's team is based primarily in Asia with additional staff in Europe and the Americas. The Foundation's bottom line is creating change that prevents animal suffering and protects the climate.
Source: AEON Malaysia/Lever Foundation
editorial@seafood.media
www.seafood.media
Information of the company:
Address:
1-5-1 Nakase Mihama-ku
City:
Chiba-shi
State/ZIP:
(CHB 261-8515)
Country:
Japan
Phone:
+81 43 212 6085
More about: