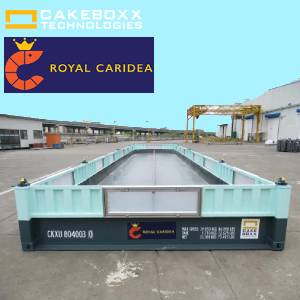 Regenerative aquaculture is the latest marketplace to benefit from CakeBoxx Technologies' solutions.
CakeBoxx Expands Modular Platform Solutions into New Markets

(UNITED STATES, 2/11/2023)
CakeBoxx Technologies has announced completion of the first eight modular 60 ft x 12 ft x 3 ft "GEN2 Raceway" platforms. These were designed and architected by CakeBoxx with Royal Caridea, LLC, a U.S. company focused on delivering repeatable, scalable, resource-conservative, and sustainable seafood farming.
Royal Caridea's GEN2 Raceway system is a breakthrough biotechnology innovation enabling localized, sustainable, fresh, and nutritious food production at scale. The food system units are mobile, modular, and vertically stackable. Designed as assemblies of eight or more units which lock together with CakeBoxx-specialized engineered systems technology, the CakeBoxx trademarked platforms are known as 'Raceways' due to their elliptical interior design. Each hosts a closely controlled, circulating, living aquatic environment that enables and supports the growth cycle of healthy and nutritious farmed seafood in a self-contained ecosystem. In the Royal Caridea application, this translates to beautiful, high-quality, and fresh shrimp.
This climate-smart regenerative system minimizes operational space needed while maximizing repeatably farmed resilient and delicious food output. It represents a transformational improvement in efficiency, scalability, and self-sustainability versus current aquaculture farming methods, which do not involve a controllable and repeatable environment. In addition, this delivers far more predictable yields at a much lower cost - a trailblazing technology for economic viability.
Crucially, the GEN2 Raceway system is a huge step forward for sustainable food production and the growth of regenerative agriculture. It is, in effect, a new, ongoing source of locally produced, fresh, and nutritious seafood for population centers around the globe, ranging from third-world remote locations to wealthy urban areas.
Daine Eisold.
"CakeBoxx Technologies has become a world leader in sustainable, optimized supply chains for high-value, high-consequence cargo. We design, architect, and build comprehensive supply chain solutions that reduce risk, improve profitability and deliver sustainability targets, so this project was a natural fit for us," said Daine Eisold, CEO of CakeBoxx Technologies… "even better, it's helping solve one of the world's most important challenges: delivering an ongoing, sustainable supply of fresh, nutritious food that doesn't require long and costly transportation from foreign destinations. Food can be grown locally, anywhere in the world."

Regenerative aquaculture is the latest marketplace to benefit from CakeBoxx Technologies' solutions. However, the modular, high-strength, high-durability properties of the GEN2 Raceway platforms utilize the same designs, intellectual property, and technology as all other CakeBoxx systems engineered use cases. The GEN2 Raceway continues the company's mission to provide sustainable, optimized supply chain solutions that reduce risk and improve profitability.
Importantly, all CakeBoxx solutions utilize a "design for sustainability" approach that ensures customers improve their operations and profitability while delivering on their sustainability goals. Increasingly, organizations are focusing their sustainability efforts on reducing waste, carbon emissions, and energy use. CakeBoxx's core capabilities are essential to these efforts through customized solutions that deliver these transformational, revolutionary benefits, including elimination of the costly and time-consuming practice of wooden crating over-dimensional payloads and dunnage disposal. This is set to continue as additional customer-driven initiatives focus on eco-friendly green supply chain projects, including green steel and other green energy initiatives.
Live 16 gram Shrimp, sustainably raised using Gen-2 Technology. Asian and Latin consumers, specialty chefs, seafood retail markets and restaurants are a large unmet market for live shrimp. Royal Caridea shrimp is available year around.
About CakeBoxx Technologies
CakeBoxx Technologies is an innovative, global leader in supply chain systems engineering and end-to-end sustainable, optimized solutions for the safe, secure, and efficient transport and storage of high-value, high-consequence cargo. CakeBoxx "two-piece" containers with their deck and lid design in both standard and fully customizable sizes, are the first innovation in the industry to offer truly safe, secure, and efficient containerized transport for the top-loaded, side-loaded, breakbulk, oversized, and general project cargo markets.
Advantages of CakeBoxx solutions include increased operational efficiency and cargo velocity, reduced risk of cargo damage, theft, and lower operating costs. Using CakeBoxx platforms and containers saves money, improves operations, and increases sustainability.

About Royal Caridea
Royal Caridea, LLC is a high-tech shrimp farming company focused on bringing to commercialization its transformative shrimp farming technology. Royal Caridea's production method is innovative, sustainable, and, most importantly, supports raising shrimp close to the consumer that is free of antibiotics, toxic chemicals and harvested under sanitary conditions.
Source: CakeBoxx Technologies
editorial@seafood.media
www.seafood.media
Information of the company:
Address:
12725 W Indian School Rd.
State/ZIP:
Arizona (AZ 85392)
Country:
United States
Phone:
+1 602-339-8995
More about: