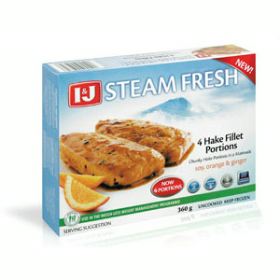 I&J steam fresh hake. (Photo: I&J)
Rand depreciation boosts I&J results

(SOUTH AFRICA, 3/10/2016)
Fishing firm I&J, the fishing business belonging to AVI Limited, largely improved the group's results in the first half of 2016 financial year, aided by the weaker rand and lower fuel costs.
The interim results of the first semester of current fiscal year (July-December 2015) show that this segment experienced improved catch rates compared to the second half of the previous financial year.
But even when capture rates improved in comparison with those from the six previous months, particularly in the case of freezer vessels, on average, they were lower than those from the first half last year.
However, as the two new vessels were commissioned during the semester, the increase in fishing capacity offset the pressure from lower catch rates.
In addition, this segment benefitted from the fact that out of the firm's capital expenditure amounting to ZAR 559,7 million (USD 364.2 million) included ZAR 257,5 million (USD 167.5 million) for I&J´s new vessels, capacity and efficiency projects in the manufacturing operations, and new and refurbished stores in the retail businesses.
The lower fuel costs, a sound processing performance and lower unrealised losses on fuel hedges than at the end of December 2014, added to the benefit of the weaker rand, resulting in a material increase in operating profit in this segment.
I&J's revenue increased by 1.9 per cent year on year in the analysed six-month period, from ZAR 980 million (USD 63.7 million) to ZAR 1 billion (USD 650.000 million) while operating profit increased from ZAR 98.1 million (USD 6.3 million) to ZAR 159.7 million (USD 10.3 million). The operating profit margin increased from 10 per cent to 16 per cent.
As to the forecast for the future, the group expects that in the second six-month period, I&J will continue benefitting from the impact of the weaker rand on export revenues, and should be able to catch more hake with its new vessels available.
As always, catch rates have a material impact on volumes and efficiency, and need to remain at acceptable levels for I&J to repeat its first half growth in operating profit.

editorial@seafood.media
www.seafood.media
Information of the company:
Address:
I&J House, 1 Davidson Street, Woodstock
City:
Cape Town
State/ZIP:
Western Cape (7925)
Country:
South Africa
Phone:
+27 21 440 7800
E-Mail:
talk2us@ij.co.za
Skype:
https://www.instagram.com/iandjltd/
More about:
Approval / Accreditation / Certified / Oversight by...